 THE INTRODUCTION OF LIQUID A KIT WITH NANO7™
Features
Welcome to Liquid A Kit, where we offer the ultimate solution for motorcycle riders looking to improve their suspension performance and reduce maintenance costs.
Our Liquid A Kit Fork Seals are made with premium quality materials, including advanced polymers and specially formulated NBR rubber compound, to provide superior durability and performance. The low friction design of our fork seals reduces stiction, providing a smoother and more responsive suspension system that can handle even the toughest riding conditions.
When used in conjunction with our Liquid A Kit fork seals, NANO7™ additive can provide even greater performance gains.
"The Nano7 low friction additive is ideal for use in all mineral-based suspension fluids.
Note: Additive Compatibility… If your favorite suspension fluid is used in forks or shocks that are designed with NBR rubber seals, our Nano7 additive will be compatible.
Mix one pillow pack of Nano7 (15ML) into one quart of your favorite suspension fluid. This mixture is used for both cartridge and outer oil volume 'telescopic suspension chambers.'
The Nano7 additive delivers nano-sized slip particles to the entire fork's internal parts and oil seals with the benefits of anti-wear and low friction under high or low temperatures.
Function: Extreme Pressure Additive, Anti-Wear Agent • Compatibility: All Suspension Fluids That Are Compatible With NBR Rubber Seals (Mineral-Based Group I, Group II, and Group III)
Features: Ease of Incorporation, Improved Anti-Wear, Improved Non-Stick, Low Friction"
We are committed to providing the highest quality products and the best possible customer service. We stand behind our products with a satisfaction guarantee and are always available to answer any questions you may have.
Upgrade your motorcycle's fork performance and reduce maintenance costs with Liquid A Kit Fork Seals and Nano7 oil additive. Order now and experience the difference for yourself!
Benefits
Kit seal sizes available – 48mm and 49mm
NANO7™ slip particles coat the forks internal moving parts
Improved riding comfort….. less friction is always a good thing
Compatible with all suspensions oils and components
Our seals are manufactured under ISO/TS 16949:2009 certifications
Kit includes: 2 oil seals,2 dust wipers,2 oil additive packs and travel indicator o-ring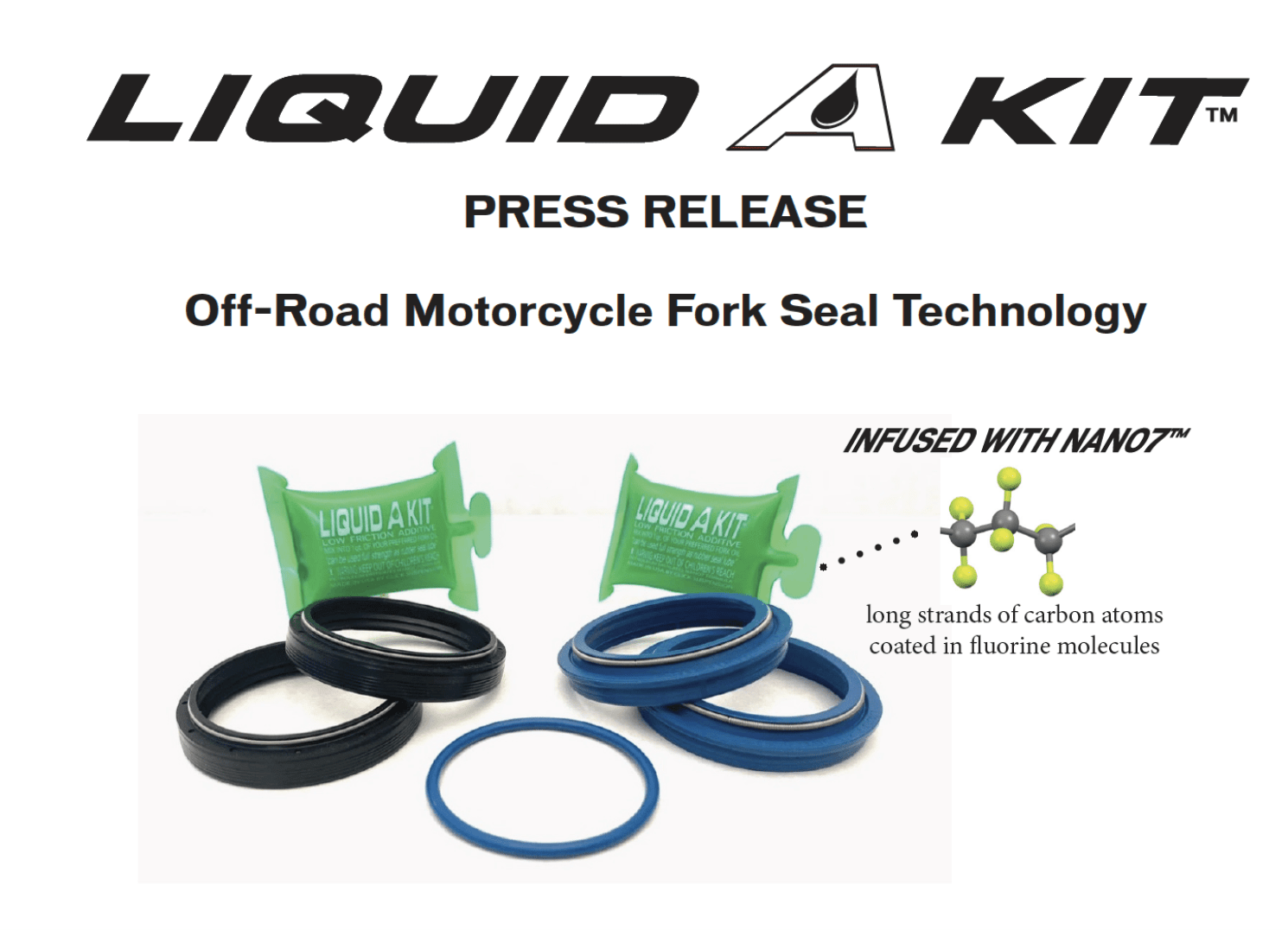 Are all fork seals the same?
No they are not. Liquid A Kit fork seals have a precision knife cut oil lip. Using this method of manufacturing we get a sharp sealing lip. When we knife cut the seal lip, it exposes the micro pores of the rubber. With the pores of the rubber exposed, the Nano7 slip particles infuse into the seal lip rubber to further reduce slide friction. Our low friction fork seal kits offer leading edge technology and are engineered to be long lasting.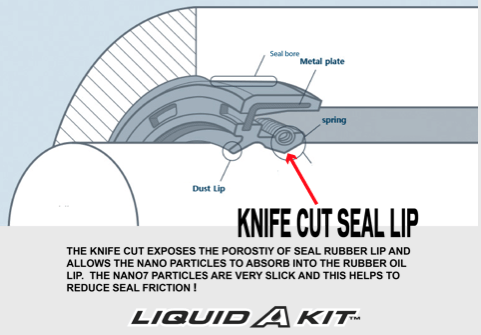 The Liquid A kit seals allow your forks to respond quickly to bumps which helps eliminates feedback to the rider.
Kit seal sizes available – 48mm and 49mm MSRP: $72.50 USD
Click here for fork seal installation PDF file:https://clicksuspension.com/wp-content/uploads/2023/02/48mm-fork-seal-installaiton_rev2.pdf
Or you can play the fork seal installation video below.
Copyright © 2016 Click Suspension Labs all rights reserved. Click Suspension Labs, Click Suspension,Liquid A kit,Nano7 and Slip Particle Technology are trademarks held by Click Suspension Labs.