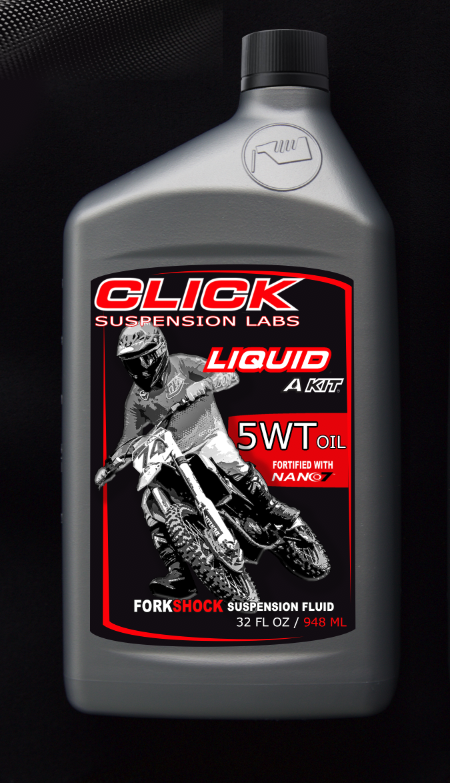 LIQUID A KIT is formulated with synthesized base stocks and blended with a nano particle friction reducing additive called "NANO7", in Santa Cruz California. Developed exclusively for CLICK suspension with stringent shear and viscosity index requirements.  Liquid A Kit was developed by Click Suspension and some of the best Tribologist in the world.
With higher lubricity and less friction your bushings and seals will last longer. You will noticed a drastic reduction in wear.
You will feel the difference !
The boring science:
Liquid A Kit suspension fluid additive has been based on two main principles – Generation of fluid pressure to separate the surfaces to avoid contact with nano sized particles called NANO7.  The NANO7 particles are designed to redistribute (float in oil ) and reduce sliding friction as bushing loads increase . Reducing sliding friction at a nanoscale level requires lubricant molecules which are nonvolatile, oxidation and temperature resistant. This leads to the tribology of NANO7,  our additive can stay in tact under the high sliding and shearing forces of your suspension. The low friction and part wear resistance of the additive film can be related directly to the bonding strength and cohesive strength of the NANO7 formula. The nano particles behave like Jello. The self repairing self generating property which is defined as the ability of molecules to rearrange themselves into the original state after they have been disrupted by a contact. This necessarily means that the molecules should have a high mobility. But high mobility implies that the molecules cannot be chemically bonded to the surface. Hence, it has low bonding strength. Therefore we have a contradicting phenomenon of strong adhesive force and self-reparability. The solution is NANO7 with it's unique mixed molecular structure in which one type of molecule bonds chemically and the other species are allowed to move freely on the metal surfaces of your suspension components.

Copyright © 2018 Click Suspension Labs all rights reserved. Click Suspension Labs, Click Suspension,Liquid A kit and Nano7 are trademarks of Click Suspension Labs.  Mobil® is a registered mark of Mobil oil company