1979 AMA PROFESSIONAL MOTOCROSS FLORIDA WINTER SERIES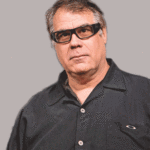 Mike Marquez aka "Neezer"  has been professionally tuning off-road motorcycle and bicycle suspension for well over 30 years.
From 1973 until retiring from racing due to a shoulder injury in 2013, Neezer has raced motocross. As a Husqvarna-supported rider in the mid 70's, Neezer held the 1980 AMA Motocross National Number "95" by attaining top twenty finishes in AMA PRO outdoor 250CC Nationals and Supercross races during the 1979 season.
In the 80's Neezer teamed up with Paul Turner (David Bailey's Team Honda Race Mechanic and Founder of Rock Shox) During the pioneering days of ATV racing with Team Honda.
In the early 1990s, Neezer raced downhill mountain bike events and enjoyed a top ten finish at a Norba National.
Co-founder Santa Cruz Bicycles.  In late 1993, Neezer entered the business startup world, co-founding Santa Cruz Mountain Bikes with Rob Roskopp and Richard Novak.
Click here > — Video — < to watch Santa Cruz Mountain Bikes video by Event Santa Cruz.
The ROCK SHOX years 1996-2000.
Neezer joined ROCK SHOX in 1996 as the rear shock tuning specialist and product development lab manager. Neezer was a ROCK SHOX team member on the UCI mountain bike world cup tour during 1996-2000 tuning for such notable talent as John Tomac, Mike King, and world champions Greg Herbold, Dave Cullinan and Nicolas Vouilloz.
A note about ROCK SHOX, RS was founded by Paul Turner a former Team Honda motocross race mechanic and  Steve Simmons,  Steve is the inventor of the modern motocross inverted suspension fork.
The FOX SHOX years 2000 – 2016.
In 2000, Neezer joined FOX Racing Shox with a few other close business colleagues, one being Mike McAndrews the founder of Factory Connection and Jeff Ward's race mechanic, Bill Becker and Brian Lampman who are also top notch bicycle suspension engineers.
Neezer was one of the original FOX Shox team members to help develop the FOX mountain bike fork program with key roles in testing, marketing, sales and USA / international race support.  Neezer stayed with FOX Racing Shox for over 17 years, and for the last six of those years, held both the product manager and shock test engineer positions for FOX off-road motorcycle suspension racing program and is a patent holder for some of the RC3 motorcycle shock design features known as F.A.S.T
"At FOX Racing Shox  we enjoyed many successes with top amateur's racer's with our MX-C fork cartridges and the Podium RC2/RC3 rear shocks; for example, with riders like Nicco Izzy, Jason Anderson, Eli Tomac, Adam Cianciarulo, Darren Durham, Cooper Webb".
Neezer was the suspension tuner for  Jeremy Ryan, during his 2019 Loretta Lynn's 125CC Schoolboy National Championship and was voted in 2019 by Moto Playground magazine  the fastest 125 rider in America. 
Also, Neezer had the pleasure of suspension tuning and consulting with these factory teams and riders:
Yamaha's Star racing team: Broc Tickle, Martin Davalos, and Michael Hall and Team manager Brad Hoffman.
Factory Kawasaki Off-Road motorcycle team: Taylor Robert WORCS Champion, Destry Abbott and Justin Soule and Team manager Jason Smigel
Rock River Racing/Team Yamaha: Westin Peick,   and Team manager Mike Duclos
Factory Beta Race team: Cody Webb National Enduro Cross Champion Team Manager Tim Pilg
RPM/ KTM Racing team: Travis Coy WORCS Pro2 champion
RPM /KTM Racing team: Kacy Martinez WORCS Pro women champion
Team Honda of France / HDI of France: Cedric Soubeyras and Mickael Pichon
Mountain bike UCI world cup racers: John Tomac, Nicolas Vouilloz-World Champion, Greg Herbold-World Champion, Dave Cullinan-World Champion
Click MTB rider:  Cooper Marquez   Santa Cruz video.
Neezer during suspension testing trip with former World MX Champion Mickaël Pichon of HRC Team Honda of France.

 

If you still wish to dig deeper hit these links
Motocross Action Magazine Dream Jobs Feature: Mike Marquez
Motocross Action Magazine Inside Fox Shox with Mike MMarquez:MXA Interview With Mike …
Mike Marquez with Fox Racing Shox and Cedric Soubeyras (video)
Santa Cruz Bicycles – Wikipedia
Santa Cruz Bicycles | Adventure Sports Journal
Copyright © 2018 Click Suspension Labs all rights reserved. Click Suspension Labs,Click Suspension and Liquid A kit are trademarks of Click Suspension Labs.